To me summer is a double edge sword.
Don't get me wrong I LOVE the time off to relax and catch up on my life. Since my school is pretty strict about following a 98% attendance rate for teachers, I find summer is the best time for all sorts of annual appointments and such. And I LOVE sleeping in and just doing what I want with my day.
BUT I also am the type of person who craves a routine so this whole no routine thing is killing my motivation. I have an big summer to do list along with my daily life things that needs to be taken care of and I am not motivated to do anything. Deep down I know that if I just sat an alarm clock and got out of bed before the ripe time of 11 I probably would find some of that motivation.
But its summer and I don't want to!
I saw this #NOtivation link up and thought perhaps if I blog about my lack of motivation I will find some. Makes sense right?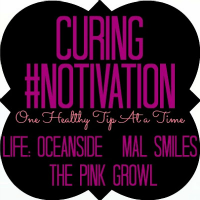 #NOtivation Fabulous Fitness Survey
1. What did you eat for breakfast?
Protein Shake - I like variety but I always use almond milk, raw egg, coconut oil, spinach and whey protein powder as the base.
Dashing Dish
has some amazing combo's that I like to mix with but I have to take out a lot of the sugar but that is a personal thing.
2. How much water do you drink a day?
I have never measured until recently but I drink over 100 ounces easily,
I am sort of a waterholic.
3. What is your current favorite workout?
Stair Master for cardio followed by an Tone It Up exercise. They last about 10 minutes tops but I feel like I target specific muscles each time plus I think the girls are gorgeous.
4. How many calories do you eat a day?
I do not count. Growing up my mom counted and measured every piece of food she ate, I like to be able to enjoy my food without that much control. But growing up with her as a mom I do know I make smart aka healthy food choices and shy away from carbs and processed foods.
5. What are your favorite healthy snacks?
Morning: Muffins or fruits and nuts
Afternoon: Protein Bars, hummus, carrots
6. What do you usually eat for lunch?
During the school year, lots of protein and veggies with some sort of healthy grain mostly quinoa but during the summer I am not moving around as much so I cut out the grains.
7. What is your favorite body part to strength train?
Abs, I am obsessed with ab exercises and fall into a bad routine of only doing those.
8. What is your least favorite body part to strength train?
Arms/Chest/Back, I have no upper body strength and me doing a push up is just a joke best left for the privacy of my bedroom.
9. What are your "bad" food cravings?
Queso, chips, bread and cheese
10. Do you take vitamins or supplements?
Vitamin B, C and acidophilus aka good bacteria
I also take supplements from Advocare, I am pretty sure I couldn't live without Spark.
11. How often do you eat out?
Once a week maybe, Mr. B are normally on different schedules so for me it is easy to eat at home pretty regularly. I have a weird fear of eating alone in public.
Whatever.
12. Do you eat fast food?
Not very often, once a month is a stretch to say but sometimes I get a craving and the only cure is a burger and fries. I don't beat myself up about it, life is too short.
13. Who is your biggest supporter?
Myself, pinterest and the blogging world.
For me a healthy lifestyle right is about personal changes and feeling better, I know when I work out I feel better. Driving home from work the only thing stopping me from going to the gym is myself, end of story.
Pinterest has completely changed the way I feel about having a healthy lifestyle, I feel like the second I need motivation or a healthy recipe it has my back.
Bloggers who share about their healthy lifestyles completely motivate me to try harder. Also link ups keep me competitive, ever since starting the 30 miles in 30 days challenge I feel like my cardio has increased dramatically...something about beating myself/previous record really gets me fired up.
14. Do you have a gym membership?
Yes, Gold's Gym which is pretty much my home away from home this summer. Although I will admit I only go to it for cardio and do most of my weight lifting at home.
I am odd like that.
15. How many hours of sleep do you get a night?
During the school year maybe 6-7 but now that it is summer 8-10...
perhaps I am catching up.
16. Do you have a "cheat" day?
No. Mr. B and I have completely different schedules for example he is off tomorrow night so we will do happy hour but we probably won't have an evening off together for another week or two. I feel like a try to take advantage of the moments we do have to go out and eat what sounds delicious because chances are the rest of the day I will have been on my normal eating schedule anyways.
17. Do you drink alcohol?
18. Do you have a workout buddy?
Nope. I am one of those weirdos who likes working out alone. Mr. B and I go to the same gym but I try to go at a different time than him. Odd I know.
19. What is the best thing that has changed about your life since committing to a healthy lifestyle?
I know when I take better care of myself my outlook changes on myself and the situations around me. I am a lot more fun to be around when I am making healthier choices. Plus I 'handle' aka don't strangle my students when I make healthier choices.
20. What was the last healthy thing you did?
Stair master at the gym for 113 flights of stairs this morning and a fun 20 minute wii workout this afternoon.
Link up with Mal Smiles and take the Fitness Survey!
- The Babbling Box!