I can't believe its already Sunday evening...sigh...on the positive note we have a four day work week ahead of us, YIPEE!!! Also, I might have an appointment with my bathtub and a bottle of wine scheduled later.
Regardless I still feel like this weekend went by TOO fast for my liking. Yesterday I went to Houston and back for lunch which pretty much took over my whole weekend, because of course Friday night I had to go shopping for said lunch.
All the super cute dresses in the stores had me totally HEARTING spring time...and I might have picked up one two three different dresses.
Today I am linking up with
Sunday Social
as I wait for it to be an appropriate time to start my bubble bathing and wine drinking.
1. What is your favorite thing about spring?
In Austin our spring time is way to short, we seem to jump straight to 90 degree weather way to fast and I HATE being sweaty when preforming day to day tasks so I am trying to enjoy this spring time weather as much as possible.
Here are a few of my favorite things about spring: driving with the window down, laying in the hammock reading, pretty spring time dresses, flip flops, drinking on a patio, hiking and bluebonnets!
2. What is your favorite kind of flower to grow or receive?
I don't know the first thing about gardening, in fact we have lived at our house for 1.5 years and until this morning didn't even know that we had a rose bush in our backyard. Gardening epic fail!
As far as receiving flowers, lets get something off my chest I HATE RED ROSES! That might sound odd but I find them so clique so Mr. B knows understands gets that he should never purchase any for me. Other than that I HEART bright colorful flowers. Calla Lilies are probably my all time favorite, I also have an obsession with bluebonnets and indian paintbrushes but I pretty sure it is illegal to pick those here.
Mr. B has a pretty good track record of picking pretty flowers...
3. What is your favorite nail polish color?
On my toes I love bright pinks and corals but on my fingers I go a for a different style: blacks, blues, purples, grays and greens. Right now my favorite spring colors for my finger nails are mint, lilac and yellow.
My favorite cheap brand is...
4. What is your favorite outdoor activity?
Anything on the water! I HEART boating, floating, sun bathing, playing in the sprinklers, did I mention floating!
I completely love hiking here in Austin but it gets hot so quick that the window of hiking time is very small.
And of course drinking on patios!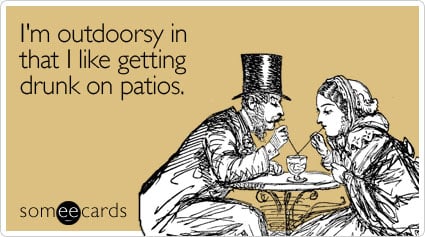 5. Do you have any fun spring plans?
At the moment I don't have anything planned out. BUT here are some things I am hoping to do:
Go on a hike with Mr. B
Go kayaking
Go to an outside concert
Lay in the hammock and read
Drink on a patio
Clean up our backyard
Plant some herbs.
Finally: just enjoy the amazing weather!
Here's hoping that Monday doesn't kick any ones butt too badly tomorrow.
- The Babbling Box!