I think all good pictures tell stories. Or bad pictures. Or in my case medicore pictures, photographer I am not.
So in a blog filled with mostly pictures and gifs you can pretty much get a feel of the type of person I am, if you didn't follow my blog you could pretty much get the same story on my instagram but my facebook is something entirely in and of it self. Mostly because it is filled with pre-teacher pictures and a lot of questionable taste. And my pinterest is a complete mess and tells the story of a crazy person who has too much free time on their hands.
I figured for this month's #favtotalsocial I would share with you a few of my more favorite posts and pictures from all of my social media outlets and the stories behind them. Also this could be considered my #tbt...too many hastags! #never. Don't worry this won't be nearly as long as you think!
A Few Favorite blog posts:
I thought it would be super cute to make jello shots topped with Pop Rocks for NYE, I mean on pinterest it looked super simple so why not. First it took 5 stores to even find pop rocks, then as soon as we put them on the jello they melted...popped. Basically we were left with a sloppy runny mess. Thanks pinterest, at least they were filled with booze!
Favorite Facebook Photos:
1. The mister and I out and about our first trip to Chicago, also known as one of my favorite trips.
2. My 23rd birthday: that is my bestie in the front being the spotlight, man in the middle and me laughing. Sums up our relationships in a nutshell.
3. Back when a red bra was the perfect way to Christmasfie my all black outfit, I used to channel Johnny Cash. Also some guy had those glasses at a bar naturally we asked to borrow them and never gave them back. And it was on week night, scandalous!
4. Red bra strikes again. Also me and the bestie used to do this weird thing where we would look passionately into each other's eyes for pictures.
Favorite Instagram Posts:
1. Favorite Cinco de Mayo, hands down. Grown adults playing with fake mustaches for hours. Perhaps there was fireball too!
2. Favorite picture of the mister: baseball is his zen.
3. Favorite memory with my sister, us reconnecting after a very long period of not talking. In a Buc-ee's no less. We are southern.
4. Favorite picture with my little brother, his personality is shining through. Aka he is outshining me.
When I first started blogging I used to challenge myself to write a blog post around a specific gif, plus it gave me topics. Looking back I haven't used gifs in a very very long time. Time to change that.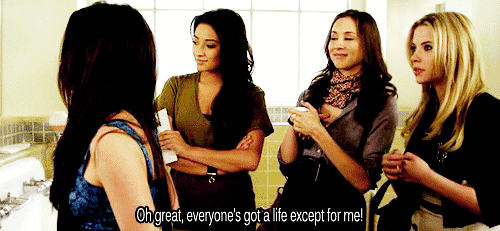 And that's a wrap folks! Not nearly as long as it could have been...it probably also didn't require the two plus hour walk I took down memory lane but it was definitely hard to pick just a few favorites from my many many different forms of social media.