I'm late. I mean this blog post is late.
It was supposed to be up yesterday, but I walked in the door at 6:00 last night after 11 hours at the school and the first thing the mister said to me was I looked like I needed a nap. I took the mister's advice because frankly naps are the best and I am damn good at them, everyone has to have a talent. But napping away my Friday night does not lead to blog posts going up. Life's hard.
Back on topic, handsome riders.
Tuesday night something legendary is going to be happening and I am not talking about Back to School Night, which is in fact happening. On that note, admin team if you could stop scheduling Back to School night on the second Tuesday in September I would appreciate it greatly.


Sons of Anarchy will be starting it's sixth season and I can barely contain my excitement.
My obsession love of this show is probably unhealthy and I am here today to drag you down my path of crazy. Don't worry the eye candy will be totally worth it.
I pretty much think that FX does no wrong when it comes to television shows: Nip Tuck was amazing until they went all bonkers that last season, The League is hilarious and I don't even get fantasy football and Justified pulls on my southern girl heartstrings.
When Erica and I first saw the previews of Sons of Anarchy five years ago we knew we were hooked.
A show based around an outlaw MC trying to keep their small town 'safe' while balancing family and looking sexy as hell protecting their lifestyle: bad boys, sex, violence and harleys. The perfect recipe for success in my book. The show is 'loosely' based on Hamlet full of betrayal, angst but with leather and harleys. It's bloody, it's a little morbid at times, it's full of drama and it's twisted humor just sucks me in.
We turned Tuesday nights into a thing and even dragged the mister into our obsession and cooked dinner, drank wine and drooled over the men of Charming.
Five years later I am still just as hooked on the show and will even openly admit that I rewatched every episode last summer via Netflix. I love it that much. And probably would have done it again this summer if it wasn't for PLL.
Unfortunately the tradition of Tuesday nights is a distant memory as Erica lives a few thousand miles away and my silly job demands my attention. BUT Thursday night you will find me glued to the couch with a glass of wine and the mister at my side to catch up on the my men of Charming.
Without further ado let me introduce you to
My Men of Charming!
Jax Teller, started the show as the 'Prince of Charming' and the VP. He was a playboy with a charming smile and a heart of gold. Out of all of the members he is the most conflicted about the path the club is on and is constantly weighed down by his conscious. Over the past five seasons we have seen him transform into a father, husband and President of the MC, and ladies he looks down right sinful holding a baby.
Filip 'Chibs' Telford is an interesting character, he is definitely not traditionally handsome but his loyalty to the club and most importantly his Scottish accent always gets me...excited if you will.
Juan Carlos 'Juice' Ortiz is a odd character, he is downright naive and lovable, almost like a puppy and I sometimes don't think he fits in the MC lifestyle. There are times when he oozes sex appeal and other times when his naivety or social skill shortcomings make him just seem dumb. I was less than pleased with the route they have been taking him the past two seasons, but this eye candy session isn't about spoiling anything.
Herman Kozik, aka 'Ken Doll' is actually apart of the Tacoma SOA but he is in quite a few episodes and honestly if we are talking about handsome riders leaving him off the list would be criminal.
Opie Winston, poor Opie. You know how every drama show has that character that all the bad shit keeps happening to, well that's Opie. Personally he isn't my cup of tea its probably all that hair but he has these moments that make me think I wouldn't mind taking a ride with him.
Alex 'Tig' Trager, is my second favorite man of Charming. He is downright demented, but he owns it and his twisted sense of humor always has me cracking up. He is also a man whore which always seems to get him in sort of trouble, something I would be more than willing to assist him in.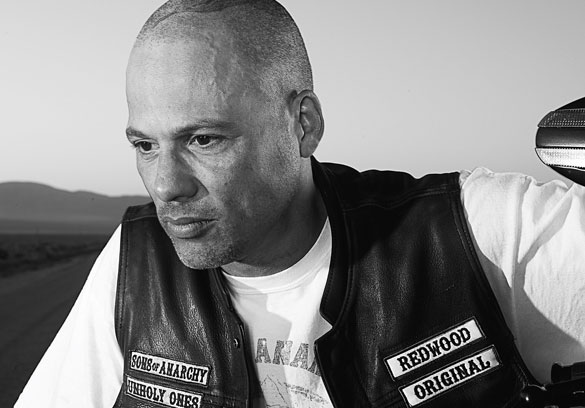 Happy Lowman, is anything but happy but he is hands down my favorite man of charming. Also known as The Tacoma Killer, he is the club hit man that is covered in tattoos. He rarely speaks but when he does it worth listening to. Silent brooding type, loves his mother, wash board abs and covered in tattoos, what's not to love lust after.
With vows like these any one of these men could easily convince me to marry them...or really convince me to do anything period. I don't mind admitting I am that infatuated with them.
And if I could paint you a picture of my fantasies...which I am not because I am keeping this PG-13 and want to keep a few readers...it might look a little something like this...
I know that I greatly failed you by only allowing you 36 hours to catch up on five seasons of Sons of Anarchy before Tuesday, but if you planned it right you could totally make it work. My men of charming are ridiculously worth it, I promise!
I would be more than willing to allow any of them to lead me astray.
And just to get you revved up for Tuesday's premiere a few of my favorite SOA songs: