I was super excited by the link up 'Songs That Define Me' that Helene hosted last week, so I started making a list of songs I should include and when the list reached over a 100 I knew I had a problem.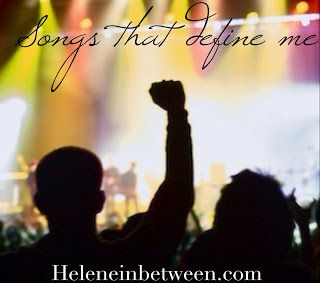 See I love music. Obsessed might be a better word. I can tell you where I was at, who I was with and probably what shirt I was wearing when I hear certain songs. I could never though tell you the important stuff like who actually sings the song or the name of the song.
I heard this song last summer while in Orlando with my bestie sitting at a moonshine bar. Another couple was in the bar and the guy kept playing this on repeat to the point where all five us, it was a small bar, were screaming the lyrics. It literally just took me thirty minutes of trying to type in the lyrics to locate who actually sings this song. Artist loyal I am not.
Besides never knowing who sings a song I also have an obsessive personality when it comes to music, blame the Gemini in me, I will love a song or artist and play the album on repeat for weeks on end and never get sick of it. But then something new comes along and its hello new obsession. Gemini's are known to be fickle but obsessive...its the twins.


Regardless of the fact that I will play out a song or never be able to tell you who my favorite artists are, I can tell you music speaks to me. I feel that no matter what 1,365,765 different mood I might be in a song will tell the story better than my babbling might. I hold onto songs like memories, use them to tell stories, play them in between classes to wipe the slate each period, calm me down or amp me up.
So I think I was able to whittle down my list of 100 to 10 18 20, but I am a Gemini so I might change my mind thirty minutes from now, I make no promises.
Childhood: In my house country was King: George, Reba, Randy, Clint, Travis...etc. I thought my dad did not know other music might exist. Every Saturday he would fill the house with country music and we would all be forced to clean house while he sang along. I resented country because it felt like I was given no other option. When all the other kids at school knew who New Kids On The Block or Boyz II Men were, I had no clue music existed that wasn't:
My mom wasn't much help, she just went along with whatever my dad liked...believe me that left a pretty strong impression. Although I did own Paula Abdul cassette tape and definitely choreographed a few hundred dances behind my bedroom door.
Middle School: The middle school years were dominated in an odd mix between Alanis Morrissette, probably the first time I ever listened to non-country music in a car with my 'boyfriends' mom, and of course Brittney Spears along with all of the other boy bands: Backstreet Boys, N'Sync, 98 degrees or LFO...
High School: High school was another weird mix of music taste, if you haven't figured it out by now my taste in music tends to be all over the map. I was introduced to 'rap' and suddenly I was blasting away: Eminem, 50 Cent and Nelly. I thought Nickleback was amazing, judge away. But also the Counting Crows sucked me in during Cruel Intentions.
College Years: Really my college years were just a blur and I would need several posts to completely divulge all of my music from college, and probably a few weeks of hard concentration in order to remember those times. A few songs I do recall fondly: blasting Madona driving in Nicole's truck, blasting sad country music driving in Nicole's truck or anything off of Justin Timberlake's Future Sex/Love Sounds albulm. The highlight being when Amber, Nicole and myself went down to Houston for his concert. We literally thought we were beyond cool because we knew every word to his songs.
The Present: For me the present is a lot harder to choose just one or two songs probably because I actually can remember the present and I am not looking back through booze colored glasses. But here goes:
When I think of the mister, myself and Erica...aka...the three musketeers:
When I need to get pumped up for a workout anything off his Recovery album gets my blood pumping:



When I think of the mister and our relationship, this is also the first song we ever danced to:





When I think of my bestie and all of the crazy memories we share:
If you have never seen Luke Bryan you are missing out, I always liked his songs but seeing him open for Tim McGraw four years ago made us fall in love...and drink a little too much.
Unfortunately we were still 'hurting' from the Tim McGraw concert to enjoy this concert as much as we should have but hands down this album is always on repeat.
I have always had bad taste in music, this is before I let twelve year olds influence me, and I liked this song. Erica hated it. But it followed her everywhere we went, so it stuck.


We are girls, we get sad. Beyonce spoke to our souls. Enough said.
Currently on repeat in the mister's car...aka...music that we both can always agree on:
I think for me music has come full circle. I once hated country music and now I pretty much listen to it everyday. I once hid my music tastes because they weren't always mainstream, and now I force my students to listen to them non-stop. I once felt I didn't truly get music because I couldn't recall artist names or song titles, but now I realize its the lyrics that speak to my soul, the tune that gets my body moving and the song that bring back the memories. And that might just be cheesiest line I have ever written on this blog.