It's Friday again...and it couldn't have come sooner. The week was definitely a long first week back at school but so positive that it hardly felt as exhausting as I expected.
I am so excited to have the entire weekend with absolutely no plans and nothing expected of me. And of course even more excited that Mr. B and I are both off tomorrow. Possible a movie and mexican food...must convince him of this. Offering to pay always helps...
HEART them both!
On to Friday's letters...

Dear New Semester of Students: You rock! I am completely digging the new class dynamics, hopefully we can keep this up all semester.

Dear Cold/Flu/General Sickness: I have already had you so don't come back, please and thank you! Nearly half the teachers at school are sick and voiceless and many more of the students have been out sick. Lysol will become my friend.

Dear New Years Resolutions: We seem to be getting along quiet nicely, lets keep it up!

Dear George Strait Tickets: Tomorrow I plan to get my butt out of bed at the crack of 9:30 to purchase you for my Dad's 50th birthday. Please let there be 6 together and at a price that doesn't make me cry. Budget please close your eyes.
Dear Hair: I am sorry I dyed you so dark. I really did have the best of intentions, please either let me begin to like you or ... not sure what else to do with nearly black bangs.
Dear High School Alumi:
You all be crazy!
Our 10 year high school reunion is going to be this year, the president planned the reunion at an alum's parents house aka mansion where they grew up having house parties.
I guess?!?
And he has opened it up to any graduating class. Even though my graduating class was already close to 1000 students.
Within 24 hours of posting the location there are 100's of negative posts about the location and open invitation While it is mildly entertaining to read, I truly don't understand all the time these people have to post, suggest alternative locations and nag.
Don't get me wrong the logistics make no sense to me either, but I don't particularly care since I won't be going either way.
But it won't be because "I am too grown up for house parties" or "this whole set up seems cliquish."
Me and Mr. B can't realistically see spending $100, for a 4 hour drive to my home town where the best accommodation is the Motel 8 on a Saturday during football season in October.
At some point I thought we were supposed to grow up and away from the stereotypes and cliques that were high school, but guess that's why I parted ways with my hometown 10 years ago.
Dear House:
Please finish cleaning yourself! I got distracted by Say Yes To The Dress, but at least I started...
Dear Mr. B:
You are delightful! You completely blew me away with all the cleaning/laundry you did today...one of the million reasons I HEART you!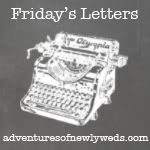 - The Babbling Box!