One of the things I used to love about living with my bestie was being able to vent about anything and everything. Now we are lucky if we get to skype every six or so weeks so its really unfair to use that time to vent. I mean we have more important things to talk about...like are crazy kids...or Pretty Little Liars...priorities!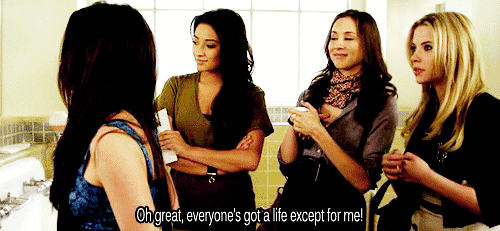 Enter the awesome new link up that Haley at Truth be Told is hosting, a chance for us all to get the opportunity to do a little venting. The beauty is that you don't have to feel guilty since everyone's doing it...that sounds like an opening to gateway drug use...
Anyways, I have been with the mister for over six years and we moved in together over two years ago, don't get me wrong I absolutely adore the mister and have loved living with him. Seriously one of the best decisions we/I have ever made.
But...at the same time there are certain things that I wasn't quite prepared for when we signed on the dotted line...of our lease. And this is coming from the girl who lived with four 19 year old stoners her freshman summer of college...I am pretty sure I couldn't even describe the dirty horrors of that apartment.
So without further ado...I love him but...
he is super judgey about my eating/drinking habits. In the rare event that I eat fast food, he judges me.. When I forget to eat dinner until nine o'clock at night, he judges me. When I suddenly want a snack at midnight, he judges me. When I want that third beverage even though I know I shouldn't, he judges me.
he mocks my television recordings. Sharing a dvr box with a boy is just downright weird, my recordings of the Kardashian's and Pretty Little Liars mixed with his history channel recordings is just embarrassing. I swear the moment I hit play on The Bachelor he walks in the room and wants my attention.
he doesn't understand my morning routine. He gets annoyed being woken up three+ times by my never ending alarms. He is baffled by the fact that I lay on the couch and read blogs for fifteen thirty minutes. He is annoyed by my constant need to change outfits ten times in the morning.
he will never pick my outfit for me. I will change eight times and each time we will 'like' the outfit I have on, when asked which one he likes better he will always say the outfit I have on. He secretly or not so secretly just doesn't want me to change again. So then I end up changing again...and again...and in anger destroying my closet.
he shares way too much about his poop/schedule. Like way more than I even care to write about.
In all seriousness I love the mister more than I can put into words and living with him has been the best experience but every once and a while it feels good to vent a little.
Next week I might go more serious and actually pinpoint what he does around the house that annoys me...but he has helped me clean the house from top to bottom before his friends arrive Friday so I am looking at him through rose colored glasses right now!
What drives you crazy about your loved ones?
What do you just need to vent a little about?