Yesterday's post was a little 'heavy' so today I figured I would change gears and sprinkle a little holiday cheer over here.
Both, in small quantities. I am not a sweet drink type of person but one glass of each every holiday season satisfies my cravings. At the law firm a attorney used to make us each a mason jar of homemade eggnog, it was delicious but after one glass I was never quite sure what to do with the rest of it.
Does Santa wrap presents or just sit them underneath the tree?
As kids my parents always wrapped our presents and Santa's presents were left unwrapped all around the tree. Our stockings were also from Santa and those were unwrapped as well. My Dad's now ex-wife always wrapped the gifts in the stockings for each kid which was always very confusing to me. It's funny how each person as a preset notion of what gifts should be wrapped and left unwrapped.
On the Christmas tree white lights but outside I like red lights. Those crazy strings of lights with the whole rainbow just don't scream Christmas to me.
This is the first year I have decorated since I left my mom's house ten years ago, so I did it the day after Thanksgiving. I think 'Black Friday' will be my official decorating day, keeps me from spending money.
I love the smell and look of real trees but the only way to get a real tree to our house would be for the mister to strap it on the roof of his car...and he might love that car more than me some days...so fake it is.
Our guard monkey. A few years ago at the zoo I saw this stuffed monkey and he looked like the angriest, judgiest stuffed animal I had ever seen. Immediately me and Erica thought it belonged with the mister. Over the years guard monkey has worn glasses, gotten a St. Louis Cardinals hat and even a remote control car...we are a unique couple. So when looking for a tree topper the mister's obvious decision was to rest the guard monkey upon the top to judge all of us.
Favorite Christmas Memories or Traditions?
When we were kids my parents used to load us up in the car on Christmas Eve and go drive around and look at Christmas lights. There would even be Christmas music playing in the car and Christmas cookies. Then we would go home and watch Christmas Vacation. Once my parents separated we started splitting the holidays up so the tradition faded away but I have high hopes of dragging my Dad Christmas light looking Monday night then watching a Christmas movie.
Funniest Christmas memory is hands down the year I ruined Christmas. I was the oldest child, there by the bossiest child to my brother and sister, I was seven or eight, my brother was five or six and my sister was three or four. Christmas morning at like three in the morning me and my brother tip toed downstairs and started looking at all of our awesome gifts from Santa. But that got boring. So we took our stockings upstairs to his room and dumped them all out and and played with everything we got, then expertly put it all back together...to not give anything away. But that also got boring. So we went and woke my sister up telling her Santa had come and she should come play with us...she wouldn't. So we got her stocking and played with her stuff. Some where along the way I got the brilliant plan to open one present and then rewrap it...before long every present under the tree had been unwrapped. My parents woke up and were very unpleased with us for ruining Christmas that year for my sister...it wasn't my fault she wanted to sleep.
Do you remember your favorite gift as a child?
Unfortunately I don't, but if I had to guess it would probably have something to do with Barbie...I LOVED Barbie as a kid.
Do prefer giving or receiving?
This one is hard for me right now, I like giving but I also second guess if the person would like it and then the money issue...so I prefer making gifts for people. It also makes me feel guilty to receive presents when I can't give them, so I prefer to not receive presents. That whole thought process is crazy I know.
What is your favorite Christmas song?
Trans Siberian Orchestra- A Mad Russian's Christmas.
Candy Canes. Yuck or Yum?
Blah. I don't really care for sweet things so I don't go out of my way to eat candy canes or other Christmas candy.
Favorite Christmas Movie?
This one is a hard one, I already have a post planned for this week of my top favorite Christmas movies...but I would have to say Christmas Vacation. That movie never gets old.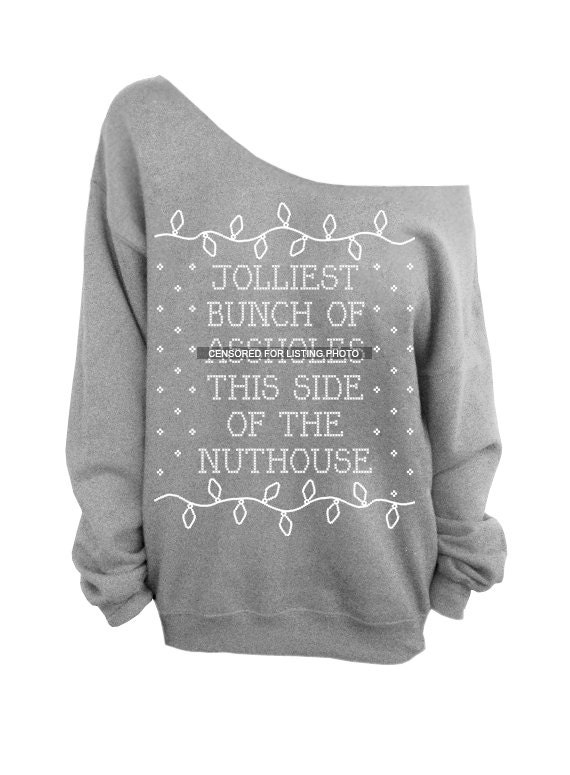 Might or might not have bought this to wear Christmas Eve this year...
Do you shop online or at stores?
I prefer online. Crowds, lines, lots of people, traffic all make me super anxious and grumpy.
Photo Cards, Letter or Store Bought Card?
I prefer photo cards. Last year the mister and I did photo cards and I wanted to do them again this year but we never could find the time to actually take pictures, so store bought cards it is.
Now it's your turn, join the link up!