Last week I bit the bullet and went seeking my classroom keys, technically we don't have to report back for duty until next Tuesday but in my head there is just too much to do to wait until 60 other teachers are fighting over the one laminator and two always broken copiers. To me it just seemed saner to end summer a little early in order to protect my sanity...or something like that.
Please tell me we aren't the only school to have the 'stupid' copier....
I was banking on there being a few melted bulletin boards, a classroom in Texas with no AC for 8+ weeks wasn't leaving much hope in my mind. I was pleasantly surprised to only find two of my bulletin boards falling off the walls: one which I think I can salvage and the my word wall aka my arch nemesis.
The OCD freak that lives in side of me wanted to fix that right this very instant BUT the rational side of me decided to make a to do list of what needed to get done in order of most important, while balancing my PBIS responsibilities and knowing when teachers would be coming up to campus next week. Who is this person and what have I done with the real A?
Once the physical part of the room was set up and ready to go, aka I double checked that none of my furniture walked away, I decided that getting myself organized trumped fighting with that stupid word wall.
I know there are a lot of teachers out there that are all about the Erin Condren planner, and don't get me wrong they are cute but I would rather buy a new pair of shoes than pay that much money for a planner. #realtalk
Over the semesters I have bounced back and forth between planner, no planner, planner, no planner. Stupid Target and their cute planners. But I think I have finally found what works for me: one binder with everything I need. Calendar, check. To do list, check. Seating charts and class rosters, check. Meeting notes, check. Etc. All in one nice neat binder that can travel easily with me.
Last summer I purchased this item from TPT which allowed me to print the pretty divider sheets, there is a newly updated version now but I am sure it looks the similar.
And this summer I purchased this calendar from TPT and this might be my favorite piece of all, a calendar with a specific section for meal planning is what I call a double win.
Using the school's ink and a binder I already had this Monday Made It cost me a total of $14.00. Obviously a binder isn't a very sexy Monday made it, but its practical...and sometimes very very rarely I do practical. Also I have been busting my butt getting all PBIS materials ready and planning staff professional development so there really isn't anything sexy I have been working on.
Insert gif of me dreaming of glitter, hot glue and neon scrapbook paper here.
I then set to organizing the binder and setting up my calendar which also includes my to do list so I could plan out what exactly needed to be done to get my classroom and myself ready for school. Breaking up all the tasks throughout the week put my mind at ease and is certainly helping my sanity this school year.
I leave my seating chart for the end of the first day of school, my roster is changing literally by the second all day long so pre assigning seats is like negotiating with drunk people.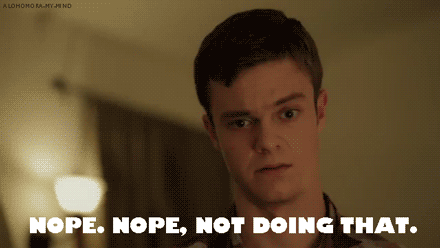 Plus at the middle school level they will either lie about their name, for weeks on end if necessary, or just blatantly sit somewhere they shouldn't. So I stand at the door and each student draws a number, I write it next to their name on the class roster and they find that assigned computer number. Yes, it might cause a bit of a line out the door. But I have never gotten into a stand off over a seating arrangement with a student because its not me making the decision, its the luck of the draw. Insert evil laugh.
I made this simple spreadsheet in order to track student data it has a place for: name, student ID, attendance, warm up and daily grade with a small notes section. I also color code the names column to document their accommodations: blue=sped, yellow=LEP, green=504.
I like having everything I need for each period on one single sheet of paper and I hole punch it and put in the binder right above the seating chart for each period. It's free at my TPT store and also completely customizable for your needs.
With my Teacher Binder made, organized and ready to go for the first day of school I feel ready to welcome back the students. Well as soon as I figure out that stupid word wall...
What little tools do you use to stay organized throughout the year?